Associate + Assistant Credits
A firm believer in the power of mentorship, Ilana is proud to hold associate and assistant credits with:
Leigh Silverman, Susan Stroman, Sarna Lapine, Michelle Tattenbaum, Dan Knechtges and Baayork Lee.
VIOLET - Broadway 2014
Starring Sutton Foster
Directed by Leigh Silverman
Music by Jeanine Tesori
Book & Lyrics by Brian Crawley
Violet tells the story of a young woman's quest for beauty amidst the image-obsessed landscape of the 1960s. Facially disfigured in a childhood accident, Violet dreams of a miraculous transformation through the power of faith. Convinced that a televangelist in Oklahoma can heal her, she hops a Greyhound bus and starts the journey of a lifetime.
before i leave you
THE HUNTINGTON THEATRE COMPANY - 2011
by Rosanna Yamagiwa Alfaro
Directed by Jonathan Silverstein
In a blink, Emily's Harvard Square world falls apart. Her husband Koji suddenly embraces his Asian roots. Her friend Jeremy's work on his novel gets interrupted by a health scare and his sister Trish moving in. Four longtime friends face too much past and too little future in this moving new comedy.
Dirty Dancing - The Classic Story On Stage
2017 - 2018 National Tour
Directed by Sarna Lapine
Choreography by Michelle Lynch
Original Screenplay by Eleanor Bergstein
DIRTY DANCING – THE CLASSIC STORY ON STAGE is an unprecedented live experience, exploding with heart-pounding music, passionate romance, and sensational dancing. Seen by millions across the globe, this worldwide smash hit tells the classic story of Baby and Johnny, two fiercely independent young spirits from different worlds who come together in what will be the most challenging and triumphant summer of their lives. Featuring the hit songs, "Hungry Eyes," "Hey Baby," "Do You Love Me?" and the heart stopping "(I've Had) The Time of My Life."
SONDHEIM ON SONDHEIM
The Boston Pops - 2017 Premiere
Directed by Sarna Lapine
Music direction by David Loud
Conducted by Maestro Keith Lockhart
His story. His inspiration. His genius. The tapestry of creativity that characterizes Stephen Sondheim remained largely undiscussed, especially by the man himself, until the creation of Sondheim on Sondheim. Ranging from the beloved to the obscure, the carefully selected two-dozen songs hang from a framework of in-depth video interviews, delving into Sondheim's personal life and artistic process.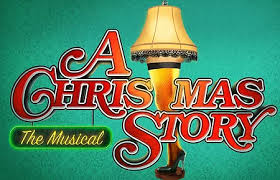 A CHRISTMAS STORY -
THE MUSICAL!
2014 First National Tour
by Justin Paul and Benj Pasek
Directed by Matt Lenz
Choreographed by Warren Carlyle
The songwriting team behind the smash-hit Tony Award-winning musical Dear Evan Hansen and the Academy Award-winning film La La Land, bring the classic 1983 movie to hilarious life on stage!
Based on the perennial holiday movie favorite, A CHRISTMAS STORY, THE MUSICAL chronicles young and bespectacled Ralphie Parker as he schemes his way toward the holiday gift of his dreams, an official Red Ryder® Carbine-Action 200-Shot Range Model Air Rifle ("You'll shoot your eye out kid!").
THE PROM - Broadway 2019
Ilana is proud to be named the Stage Director and Choreographer Foundation's 2018 Mike Ockrent Fellow. Ilana worked with Tony Award-Winner Casey Nicholaw (Mean Girls, Book of Mormon, Drowsy Chaperone, Aladdin) on Broadway's newest hit musical comedy, The Prom.
What happens when four stars leave the bright lights of Broadway and take leading roles in a small-town controversy making national headlines? Big drama. Bigger laughs. And the biggest musical showstopper in years!
Starring Tony Award® nominee Brooks Ashmanskas (Something Rotten!), Tony Award winner Beth Leavel (The Drowsy Chaperone) and two-time Tony Award nominee Christopher Sieber (Shrek) leading a cast of 27.
NOBODY LOVES YOU!
SECOND STAGE THEATRE COMPANY - 2013
Directed by Michelle Tattenbaum
Choreography by Mand Moore (La La Land, So You Think You Can Dance)
Music & Lyrics by Gaby Alter (Band Geeks)
Book & Lyrics by Itamar Moses (The Band's Visit - Tony Award for Best Book of a Musical)
A romantic comedy about the search for meaningful relationships in a culture dominated by the quest for popularity. When Jeff, a philosophy grad student, goes on a reality TV dating show to win back his ex, he instead finds a girl who might be the love of his life. But will she fall for him once he is seduced by the adulation of his fans?
The 2012 Pittsburgh CLO Summer Season
ilana served as the assistant choreographer for the following productions